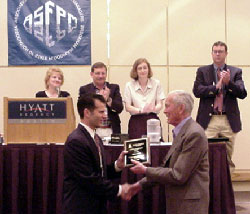 IAFSM was founded in 1986 by professionals interested in and responsible for floodplain and stormwater management in the State of Illinois.
The IAFSM is a local chapter of the Association of State Floodplain Managers. Our objectives are to:
Promote the common interest in floodplain and stormwater management


Enhance cooperation among various local, state, and federal agencies


Encourage effective and innovative approaches to managing the State's floodplain and stormwater management systems
The IAFSM pamphlet provides a brief introduction to IAFSM. A more detailed look into our association can be found in our Constitution and Bylaws.

The Illinois Association for Floodplain and Stormwater Management publishes a newsletter to inform members on important topics such as current legislation, local activities, hazard mitigation, new state and federal programs, publications, conferences, workshops, and job openings. The IAFSM holds an Annual Conference each spring. Its location varies throughout the State. In addition, we hold seminars throughout the year on current topics of interest to our members. If you have an idea for a twilight seminar, send an email to our Chair, Glenn Heistand at heistand@illinois.edu.
The IAFSM has implemented a statewide certfication program for floodplain managers. For more information, click on "Certification" on the home page.
Members of IAFSM gain the ability to communicate a uniform position on current concerns, rule changes, local programs and other issues impacting floodplain management. We would like to invite you to join us and work together to promote sound floodplain and stormwater management. IAFSM membership provides an unique opportunity to communicate and share ideas with fellow professionals in private industry, municipal government, and state and federal agencies.